Barcelona's logistics distribution is supported by the most advanced internationalized port in the Mediterranean.

INFRASTRUCTURE
Barcelona's Port has more than thirty terminals specialised in containerised goods, cars, RO-RO traffic, coffee and cocoa, fruit, steel products, liquid and solid bulks and passengers, managed by world leader operators and international suppliers (Hutchison, Iberpotash, Tradebe, ….).

TCB and BEST container terminals serve large shipping companies with direct stopovers in Barcelona and operate with the highest degree of productivity of Mediterranean ports.

BEST, operated by Hutchison, the world's leading container terminal management group, is the most advanced semi-automated container terminal in the Mediterranean area.


CUSTOMER ORIENTATION
Reliability, speed, transparency, electronic management…
Another feature of the Port of Barcelona is that it leads innovation through projects designed to speed up the flow of goods through the Port, the most relevant examples of which are:
Quality and efficiency through the Efficiency Network label: more than 50 companies in Barcelona's Port Community joined the network, which sets certain standards, requiring companies to provide their services (Customs clearance, removing cargo from the port area, etc.) within maximum agreed time frames and in accordance with high quality standards.
Telematic management of information and administrative procedures: The Portic technology platform is an international benchmark in the development of technological applications to streamline port documentary procedures and exchange information and has helped the Port of Barcelona to become a paper-free Port.

CONNECTIVITY
The Port of Barcelona offers direct and regular maritime services with main ports in the world.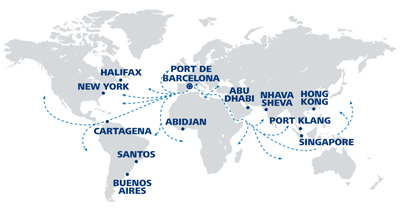 On the other hand, the Port of Barcelona has the widest service network in Southern Europe. Its maritime and inland transport services include daily and/or weekly rail services with the main destinations in Spain (Madrid, Zaragoza, Valladolid, Tarragona, etc.) and Europe (Portugal, France, Italy, Germany and Belgium). In addition, the Port of Barcelona has its own inland terminals in Spain (Zaragoza and Madrid) and France (Perpignan and Toulouse) which allow a more reliable, flexible service that is tailored to the requirements of logistics operators and their customers. Ro-pax services also allow the Port's customers to distribute their goods all over the Western Mediterranean (particularly Italy and North Africa). All of this means that the Port of Barcelona can be used to reach any major consumer and industrial centre in Western Europe and North Africa by boat or train (as well as by road) in under 24 hours.